Angola

Angola is a Central African country with a population of around 16 million inhabitants. The country has a total land mass of 1,246,700km2 and the capital city is Luanda. The official language is Portuguese.
Inter Campus Angola was founded in 2008 in collaboration with Polidesportivo Dom Bosco dei Padri Salesiani. The initiative's objective is to prevent street crime and under-age prostitution and currently involves around 600 young boys and girls. The children are all between six and 13 years of age and live in the Lixeira (rubbish dump) favelas of Luanda, Calulu and Dondo.
Educational and sports training is given to teachers and instructors that live in the favelas, and includes young men and women who have been involved in the project from a young age.
News
All posts
Inter Campus

05.10.2015 / 01.04

Training course run by Inter Campus for 70 local educators involved in the …

Inter Campus

15.03.2015 / 10.41

The children of Luanda have a real zest for life, whether they're playing…

Inter Campus

20.01.2015 / 04.42

We set off around the narrow, busy roads of Luanda, Palanca, Dondo and Benguela…
Stories from Angola
Angola (July 2008) – Black and blue Africa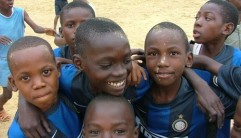 by Mario Rossi